Presentation Guideline
Poster presentation How to use SpatialChat
The ULR of SpatialChat will be announced by 16th Nov by e-mail to all the participant.
For the presenters you can check your poster on 17th Nov. Submission deadline for the
poster is 18th Nov (whom want to check the poster please submit your poster by 15th Nov)
This URL will be only usable during the JCRS (21stNov AM 8:00-23rd Nov 23:00) . During
this period, you will be able to enter and out whenever you want.
Please see SpatiaCchat_Instruction for use
Presentation Guidelines
Details will be announced when the program is released in October. All presenters must be members of JCRS except invited speakers and students in high school and below.
Oral presentations:15 minutes are allotted, including set-up and questions. Presenters need to prepare electric presenation and your own PC (Win/Mac).
Presentation will be conducted as live-presentaion sharing your presentation in your PC though the Zoom.
Poster presentations:Please prepare your poster in PDF format. We are considering the presentation format such as Interactive communication tool. Details will be announced later.
Poster presentation (tentative)
Note: This is a tentative version, but we presume it may be of help to those who are planning to make a poster presentation.
We are planning to use SpatialChat for poster presentations online.
Poster preparation
Prepare a JPEG file. We will announce the size and resolution, as well as how to upload the file, in due course. Posters will be displayed by the organizing committee.
Poster exhibition room
Click the link we provide, so that you can enter the room.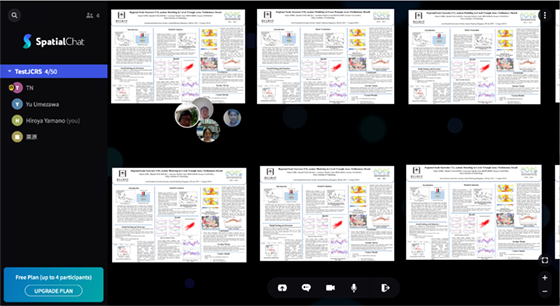 Example of a poster exhibition room
(note that we displayed same posters for trial)

Presenters: Move your icon to the bottom side of your poster and stay there.
Audience: Move your icon close to the presenter's icon, so that you can talk with the presenter. The volume of voice depends on the distance between you and the presenter. The voice will be louder as you approach the presenter's icon. If you wish to visit another poster, just move your icon to the presenter of the another poster. You can talk with the another presenter, without hearing the voice of the first presenter.

You can zoom in any posters by yourself. So you can have a quick look at a poster before you talk with the presenter.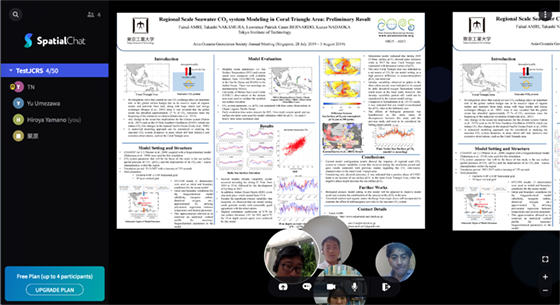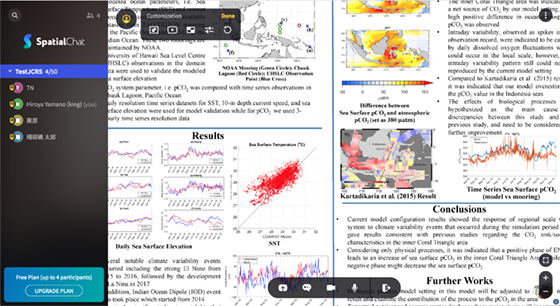 Zooming in the poster of your interest.

 SpatialChat is very intuitive to use, and we found no problem during the trial process. You may even feel as if you are in the poster exhibition room. We will make further check of the use, and make detailed announcement in due course.
Presentation Award for Young Scientists
 Presentation Awards for Young Scientists will be given to young JCRS members less than or equal to 35 years, who take excellent oral and poster presentations, and have never won the award. The candidates who intend to entry for the award must be submit from "Registration form" by Sept. 23rd 2020.