Young Member Group
About us
The members of Japanese Coral Reef Society (JCRS) participate from various fields and positions, and it is important to have horizontal connections to develop our research and preservation activities of coral reefs. In the Young Member group of JCRS, we create opportunities for JCRS young members to interact across disciplines with each other, and also conduct activities for the purpose of the following three points.
1. Advance skills for research and outreach activity
2. Boost our community, and bring up the next generation
3. Interact with outside community
Activity
・Regular meetings in Tokyo and Okinawa
・Information exchange on a mailing list (in Japanese)
・Research seminars
・Implementation of outreach events
Membership
・Open to anyone who is not concerned with social standing or position and is working on or with coral reefs. No age limit. You do not have to be a member of JCRS. Dues for our group are free.
To join our group, please contact us by email (*). You have completed enrollment to our group and registered in the mailing list. To cancel the membership of our group, please contact us by email (*): we remove your name from the mailing list.
*Contact email address: yamamoto-s-(a)eps.s.u-tokyo.ac.jp (change"(a)"to"@")
Members of the steering committee in 2015
Takashi Nakamura (Manager of Tokyo branch), Takuma Fujii (Manager of Okinawa branch), Shoji Yamamoto (Mailing list manager), Sho Nakaema (Web manager)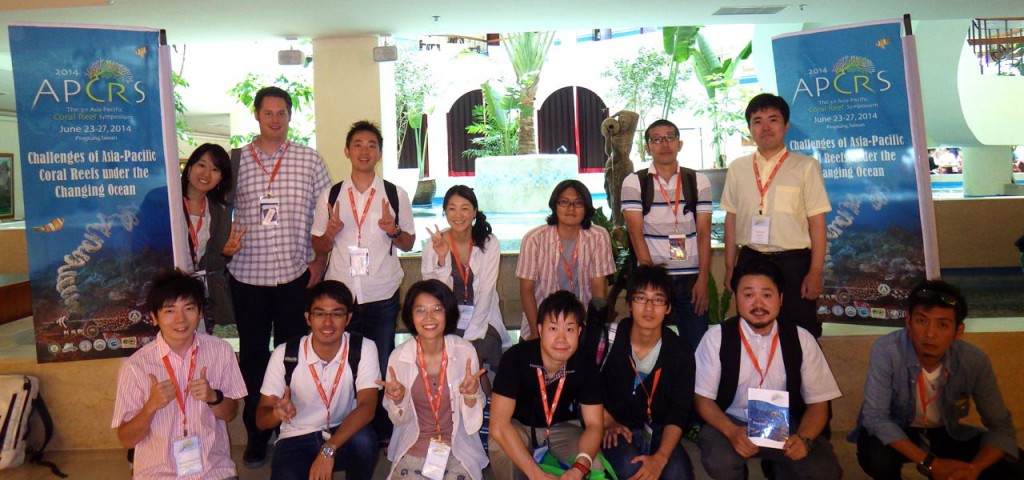 JCRS Young Member Group at the 3rd APCRS