April2016
April 21, 2016

JCRS Newsletter No.69 just released!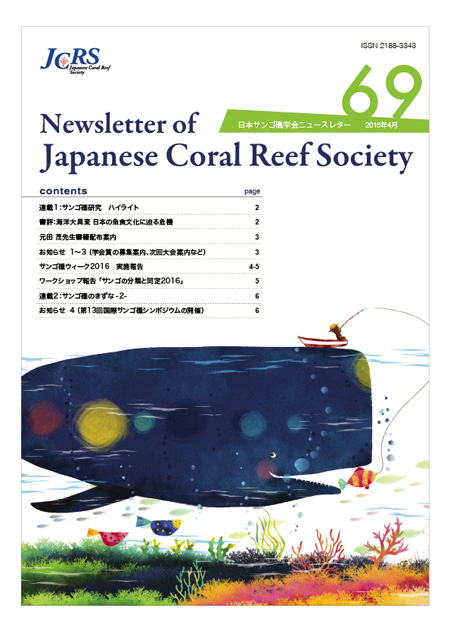 JCRS Newsletter No. 69 (in Japanese) is available on the web site. [password free]
Serialization:The latest papers on coral reef studies
Announcement from JCRS secretariat
Report: Coral Week 2016
Report: Workshop of coral species identification
Serial Column: Dr. Makoto Tsuchiya
Announcement:13th ICRS
*If you are unable to view the file on your web browser, please save the file on your computer's hard disk first and then open it.
April 21, 2016

Award ceremony for winners of financial support by JCRS

13th International Coral Reef Symposium will be held soon. Ceremony of award for winners of financial support for graduate students and young researchers by Japanese Coral Reef Society (JCRS) will take place as below. Please do get together if you join the symposium.

【Winners】
Ito Saori (Hokkaido Univ.)
Kunihiro Shiori (Univ. of the Ryukyus)
Nakamura Shohei (Univ. of the Ryukyus)
Mizuyama Masaru (Univ. of the Ryukyus)
Yuasa Hidearki (Miyazaki Univ.)
Laddawan Sangsawang (Shizuoka Univ.)
Md. Shafiul Alam Shizuoka Univ.)
Rian Prasetia (Univ. of the Ryukyus)
Rumana Sultana (Shizuoka Univ.)
Vu Manh Hung (Shizuoka Univ.)

【Date & Location】
It will be held during the 13th ICRS on Thursday, 23 June from 18:15 to 19:00 at the symposium venue, room 303AB.

JCRS International Cooperation Activities   Beatriz Estela CASARETO
1